Fithouse is your home away from home. We strive to provide our members with a world class experience from the moment you enter the parking lot. With dedicated parking, towel service, spa-like change rooms and showers, natural soaps and more - we've got you covered. Whether you're here before work, at lunch or after work you can walk out fresher than you walked in.
Both our CrossFit gym and Inferno gym are equipped with all the equipment you'll need to move towards your goals.
25-FOOT RIG
Our 25-Foot Rig is the centrepiece of our CrossFit gym. Equipped with Pull Up bars for any height, adjustable gymnastic rings, barbell racks, and matador attachments. Versatility is the name of our game and the rig is where it all begins.
2 LARGE BAY DOORS
Two large bay doors allow for a ton of natural light year-round. During the warmer months, we love opening them up and basking in the fresh air.
WIDE VARIETY OF EQUIPEMENT
"Constantly varied functional fitness" means that we change things up to keep you on your toes. Our CrossFit gym is home to premium weightlifting and conditioning equipment including 15-foot ropes, and Assault bikes.
FULLY EQUIPPED
Our programming changes every single day, which means the equipment we use also varies. Spin bikes, rowers, wall balls, kettle bells, TRX trainers, the list goes on and on.
BRIGHT STUDIO ENVIRONMENT
With plenty of natural light, 20-foot ceilings, full length mirrors, and a Yorkville stereo system, our inferno space is incredibly inviting.
ACTION PACKED WORKOUTS
Action packed workouts guaranteed to get you sweaty through our proprietary programming. Our unique blend of strength and cardio is scalable for all fitness levels and gets you results.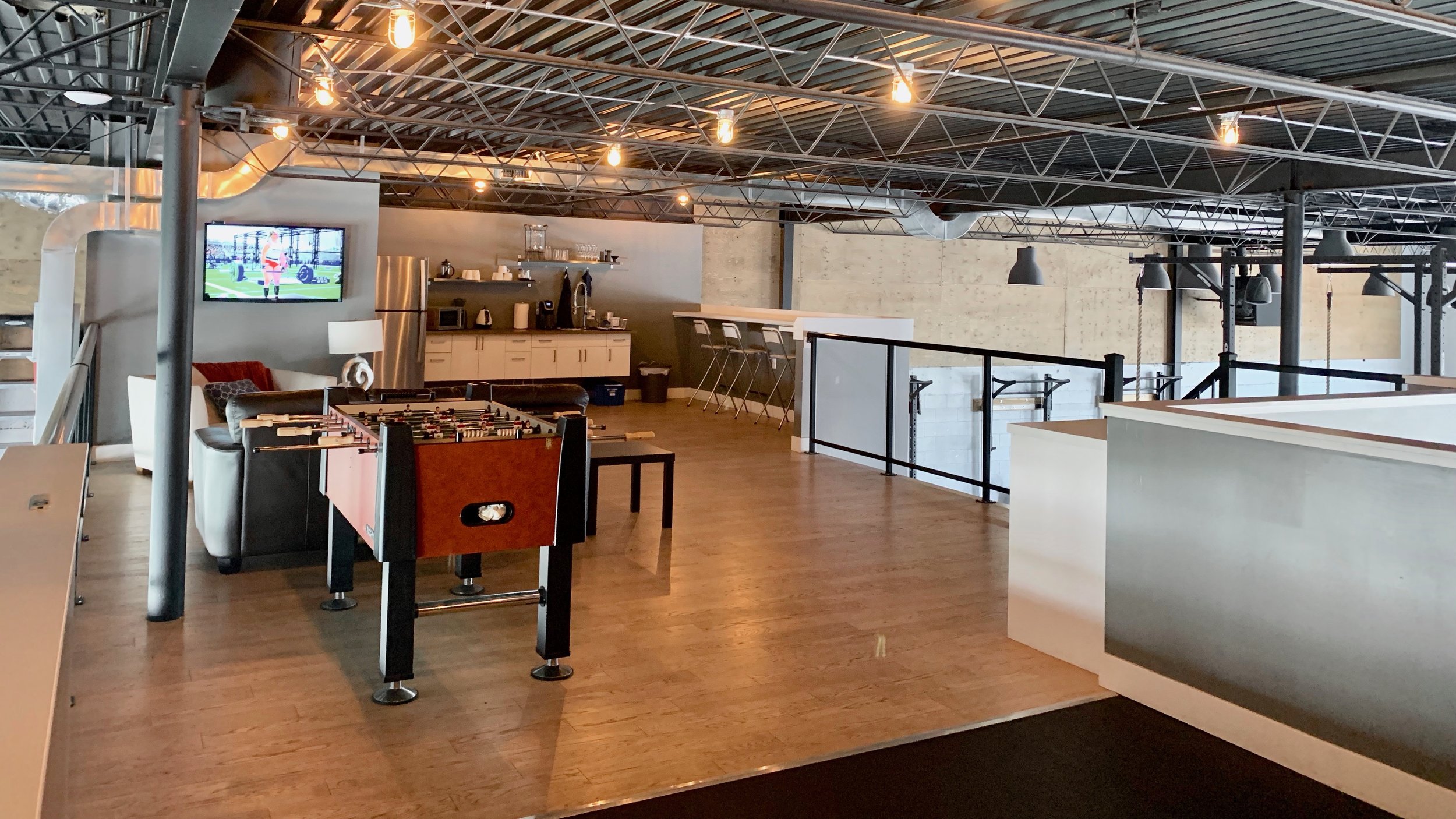 KITCHEN
Our Kitchen area is equipped with a fridge, microwave, Keurig coffee maker, French press, Aero press, kettle, water glasses, coffee mugs and cutlery. Not to mention complimentary Coffee & Tea. Have a seat and enjoy your pre/post workout nutrition.
HANG OUT AREA
The Lounge is home to a foosball table, comfortable chairs, a couch, a screen with Apple TV, and a great work area. Stick around and hang out!
KIDS ZONE
Our Kids Zone is awesome! A TV with Netflix Kids, and a bunch of toys! Plenty to keep your little ones entertained while you get your sweat on close by.
SPA-LIKE CHANGE ROOMS
Our change rooms are equipped with showers, hair driers, and premium toiletries. We take pride in keeping our member areas in tip top shape.
TOWEL SERVICE
Towel service is included for all members at FitHouse. You can also expect cold, essential oil enriched towels after your workout.
PARABEN-FREE SOAPS
Our change rooms and bathrooms are stocked with premium natural soaps, shampoos, and conditioners by Rocky Mountain Soap Co.